Malahat SkyWalk with Ferry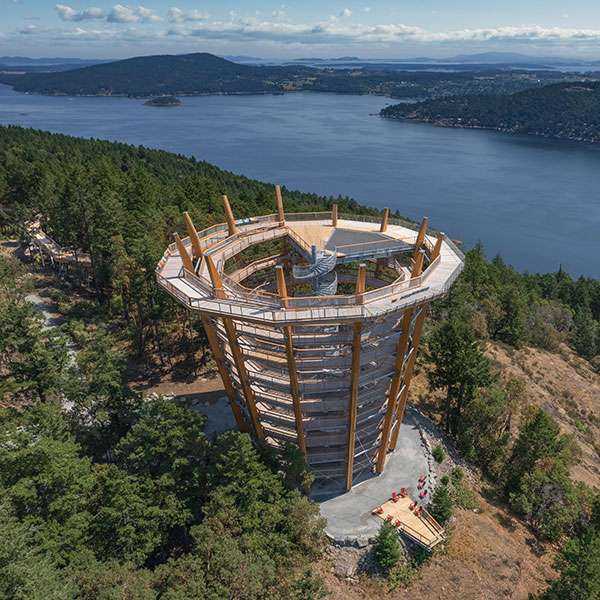 Black Ball Ferry Line
Victoria Terminal
430 Belleville Street, Victoria, BC V8V 1W9
Malahat SkyWalk
901 Trans-Canada Hwy, Malahat, BC V0R 2L0
Malahat SkyWalk is British Columbia's newest visitor destination. Just 35 minutes north of Victoria, where the forested mountains drop away to the Pacific Ocean, this incredible fully accessible experience includes a 600 m (1,968 ft) elevated walk though the forest canopy leading to a 32 m (105 ft) sightseeing tower offering breathtaking views as far as the eye can see. Guests can find a deeper connection to nature learning about the trees, birds, animals and marine life of this coastal region unique to BC. Malahat SkyWalk is located on the traditional territory of the Malahat Nation and their Indigenous stores are also embedded throughout the experience.

Please Note: This attraction is about a 35-minute drive from downtown Victoria, and is not a pet friendly experience. Malahat SkyWalk allows entry of Certified Guide and Service dogs only.

Package Includes:
- Ferry Fare
- Admission to Malahat SkyWalk
Experience Overview
- Welcome Centre & Gathering Place: Guests are greeted by the Indigenous art of the Coast Salish Peoples. Walking through an Interpretive Breezeway they are immediately engaged by the experience. Guest services, ticket sales, a café and gift shop are available.
- TreeWalk: Guests embark along a 600 m (1,968 ft) elevated, wooden walkway rising 20 m (65 ft) to explore the treetop canopy of an arbutus and Douglas fir forest. Three rest stops along the route offer information about the surrounding natural environment.
- Spiral Tower: Guests ascend a wooden, spiral ramp gently rising 40 m (130 ft) to the top of the 10-storey, architecturally-inspiring lookout – the first of its kind in B.C. The ramp would be 500 m (1,640 ft) long if laid out end to end.
- Sightseeing Lookout: At the top of the tower, guests are 250 m (820 ft) above sea level and enjoy 360-degree views of islands, inlets, fjords, forests and mountains in two countries. Landmarks include Finlayson Arm, Saanich Inlet, Saanich Peninsula, Gulf Islands, San Juan Islands, Mt. Baker and the Coast Mountain range.
- Walk in the Sky on the Adventure Net: Also at the top, daring guests can walk on an 84 sq m (900 sq ft) adventure net suspended partially across the centre of the Spiral Tower for another breathtaking perspective on the spiralling structure below.
- Spiral Slide: On the descent, guests can choose to return to ground level by using the spiral ramp or take an exhilarating ride on a 20 m (65 ft) enclosed, spiral slide. Available to everyone over five years of age or a minimum of 107 cm (42 in) tall.
- Cantilevered Viewpoint: At ground level, guests can enjoy a second lookout which extends out in front of the Spiral Tower and provides views of family and friends as they climb to the top.
- The Return Trail: Guests can make their way back to the Welcome Centre the same way they came on the TreeWalk or, with their feet back on the ground, can reconnect with the earth along an 800 m (2,600 ft) gravel pathway at ground level.